We provide two types of transcriptions:
Transcription for a vocal song
This is a professional "lead sheet" for a vocal song with a band. Lead sheets are what you see when you open a songbook; they include standard notation for the melody of the song, as well as the lyrics and chords. If you're a songwriter and want your songs copyrighted, or if you need to have your band learn a song note for note, this is a must have.
Transcription for an instrumental lead
This is a note-for-note transcription for that hot instrumental you're dying to learn. It's prepared with a double staff with both standard notation and, when appropriate, custom tablature (TAB) for your instrument.  If you prefer, you can request standard notation only, or TAB only.
Standard notation vs. Tablature (TAB)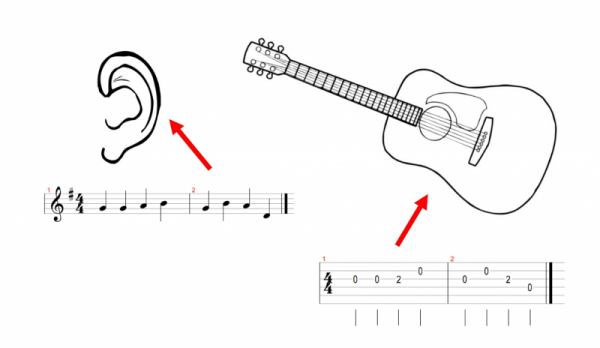 Standard musical notation shows you what note is being played, but not where it is played on your instrument. Only TAB does that!
Our transcriptions for instrumental songs performed on stringed instruments include a double staff with both standard notation and custom tablature (TAB) for your instrument.
We prepare TAB for these instruments:​
Guitar (all tunings)
Ukulele
Violin/Viola/Cello
Banjo (4 and 5 string)
Mandolin
Bass
Dobro
Bouzouki
Reference recording/performance
We'll need a recording of the song you want to learn. Just provide a link to a recording or performance online (YouTube, Facebook, SoundCloud, etc.) or email us an mp3 — whichever is easier for you.
TablEdit, Guitar Pro, TEFF or MuseScore files
You can request TablEdit, Guitar Pro, TEFF or MuseScore files of your transcribed song. These programs allow you to play back the music.
"Slowed down" mp3 file
A slowed down version of the original recording. This is really helpful when you're learning a new song.
MIDI output to mp3
An mp3 audio file from the MIDI output of your transcription. This audio track provides a handy reference for how to play your transcribed song.
It's quick and easy.  Just click the button below to start.  
Tell us what song you want us to transcribe, and for what instrument.  Include a link to the performance or recording, or send us an mp3.  You can also select the premium options described above.
Then complete your checkout (you can use a credit card, debit cad or PayPal balance).  You'll receive an order confirmation email and we'll get started on your transcription.   
Important note: In most cases, the song will be of average length and difficulty, and the transcription will be "one time through" the song.  However, if we determine that the transcription will require more than one "time through" the song, or that length or difficulty fees will apply, we will contact you before beginning your transcription, and these fees will be due before we will begin the job.
Our standard transcriptions are "one time through" the song.
Be aware that a performance can include several "times through" the song, with extra solos or variations. 
Here's what we mean:
Many popular songs repeat the same chorus and verses several times; they repeat the same melody and chords, even though the verses may include different lyrics. In this case, you will just need "one time through" the song, meaning just one transcription.

Or a song might include the whole band playing a verse and chorus (one time through), then a guitar solo (a second time through) then the whole band playing the verse and chorus again (same as the first time through).  In this case, the "solo part" is a separate transcription from the song. This is because almost all solos are someone improvising over the chords of the song, and it is actually a completely separate musical entity. If it's a long solo — for example if the guitarist plays over the song four times through — each time-through will count as a separate transcription.

An instrumental song may play the song (verse and chorus) three times through, featuring different solos by three different instruments. The entire performance would require a transcription "three times through" the song.

If the performance is more than one time through the song, use the Special Instructions field of the order form to let us know which "time through" you want us to transcribe, or request more than one for an additional fee.
If you're not sure how many "times through" your song you want us to transcribe, please contact us. Send us a link to the song online, or send us an audio file, and describe what you want.
If your transcription requires more "times through" than you ordered, we'll let you know before starting the transcription.
We transcribe songs of average difficulty, with transcriptions up to 3 pages in length. If the transcription requires more than 3 pages or if the song is insanely complicated or challenging (think Flight of the Bumble Bee) an additional fee of $25 per transcription or "time through" may apply. We will inform you of any additional fees before beginning your transcription, and these fees will be due before we will begin the job.
You will receive your transcription via email in PDF format for easy viewing or printing.
Creating an accurate transcription requires us to listen to every single note, and then try various positions on the instrument until we are sure we have it correctly. This takes time!
Transcriptions can take between 2 weeks to several months to complete, but if the song is particularly challenging it can take longer. Feel free to contact us if you have questions about the progress of your transcription.
Live online music lessons
When you're ready to learn how to play your new song, nothing helps more than one-on-one instruction from our JamAlong music teachers. We offer live online music lessons via our sister site jamalong.org.
Use whatever platform you are comfortable with: FaceTime, Skype, Google Hangouts (we recommend Zoom).
Use your computer, tablet or smartphone, they all work fine!
Watch and hear your instructor play your song and explain everything in detail.
Get immediate tips and feedback on your playing.
Build confidence and prepare for live performance.
A transcription is a translation of a song into notation and/or tablature. Our job is to accurately render the song onto paper (okay, pixels) exactly as it is played in a particular recording.
An arrangement, on the other hand, is where we creatively adapt a piece of music to fit your instrument. So if the piece of music you choose does not actually have your instrument in the original recording, or you want a different interpretation than what you're hearing, you're asking for an arrangement.
We can do that too! Just order a Custom eLesson on our sister site jamalong.org.
Our team of transcribers is second to none, as all of us are professional musicians very familiar with all the common styles of these musical instruments. However, dependent on the difficulty of the song and quality of the audio recording, we cannot guarantee you're your transcription will be a 100% match to how the artist originally played them. We try to reach 100%, and refuse to fall much lower than that mark. Your JamAlong transcriber reserves the right to determine the accuracy of a TAB, and we do not engage in debate over the content of our transcriptions!
We may decline to transcribe music that is extremely difficult, out of the range of ability for the instrument requested, or if the part to be transcribed is obscured by other instruments or poor audio quality. (Put yourself in our shoes: we need to be able to hear every single note!) If we determine your song is unworkable, we will help you find a better quality recording, select another song, or refund your purchase.
Please contact us.  We're always happy to help!